Subway to Nature – Domäne Dahlem: an open-to-the-public organic farm in the capital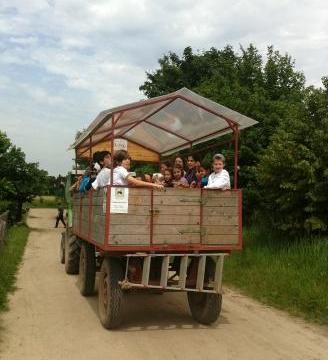 City slickers rarely get in touch with real life agriculture – how many of us know an actual farmer? Sure, lettuce does not grow in supermarkets and sausage is not exactly a pig's body part. But what exactly does organic farming mean? What is the advantage of mixed crops? How do you get those lovely bees into your garden? At the Landgut und Freilicht-Museum Dahlem you can learn, see and even taste what makes a great organic farm!

You get off the subway (exit at Dahlem-Dorf) and literally step right into nature. Lush orchards, bright pink rasberries, grazing cows, pigs, and horses, a bunch of kids cheering on board a tractor, birds taking a bath in little puddles. A classic farm. And yet – this one is very unique. Domäne Dahlem been a farm for about 800 years in a row and it is also where you find Berlin's oldest residential building. It is also an organic farm right in the city. But most importantly, Domäne Dahlem is a free open air museum which is open to the public 7 days a week. No matter how old or experienced, there is always something to learn. Take a tour of the farm, stroll alongside the orchards, experience the abundance of plants and animals and check out the interpretive signs. There are also guided tours for children, adults, and seniors and various workshops, from pottery to baking. For seasonal events, such as the potato festival, check the event calendar (Veranstaltungskalender). 
Of course, you can chose to just relax, there is plenty of picnic tables and you will be amazed by the lack of city noise. Check out the organic farm stand where you can buy the fresh produce you have just admired. Enjoy coffee, cake, soups or organic sausage in the leafy beer garden.
Domäne Dahlem is open daily and admission is free, except for special events.
Links: