Tempelhof – A recycled airport in the heart of the city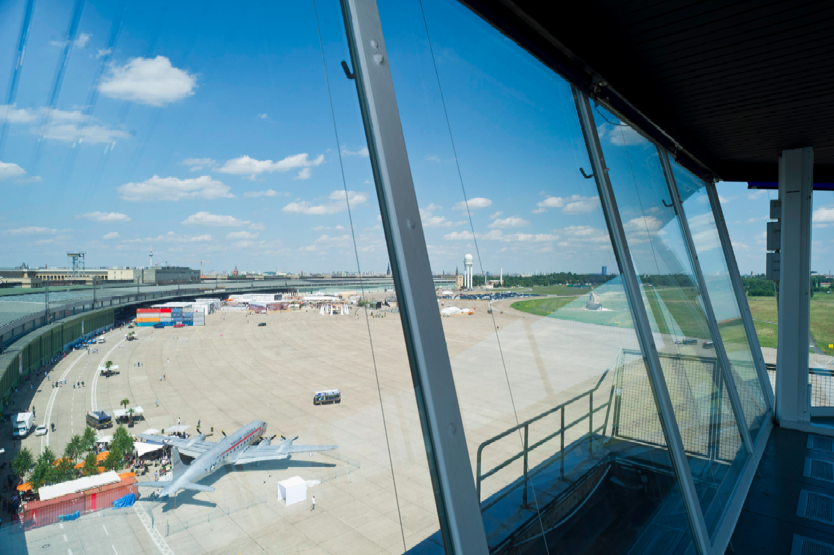 What do you do with an airport in the heart of the city when it becomes old and obsolete?
Make it a green mega playground for city siders!
Built from 1936 – 1942 (with a break during WWII) and once amongst the top 20 largest buildings in the world, Tempelhof faced closure when plans were made for the BBI – the Berlin Brandenburg Airport project in 1996. Schoenefeld Airport (SXF) was going to become the major – and eventually only – airport in Berlin.
After a fierce debate and a Berlin wide plebiscite, Tempelhof was closed in 2008. The debates did not stop, but turned towards the question of: what to do with the huge space, which many called "green lung" of Berlin. Although it sounds paradox, arguments have been made that the area has an important – cooling and cleaning- impact on the climate of Berlin. It is also habitat to numerous endangered birds, plants and insects.
Development plans were dismissed forever (!) and in 2010 the park was opened to the public. "Tempelhofer Freiheit" is now a magnet to runners, skaters, bikers, and strollers. After all, seven rounds around the air field makes one marathon – with its 240 hectares the urban green field is almost the size of London's Hyde Park. The park has picnic and BBQ areas, and the only things that fly are birds, butterflies, kites and frisbees.
Several parts are closed to protect the local wildlife but there are also fenced areas for walking dogs.
The landmarked airport building now host high level events like fashion shows and even the Clean Teach World convention has found a home at Tempelhof. But also the somewhat sleepy area around Tempelhof faces an exciting future. South of the park, a business park for Clean Tech companies is in the planning. New homes, as well as educational institutions and medical infrastructure will revive the area, so that step by step, Tempelhof could soon become a new hot spot in Berlin.
To get to Tempelhof, the U6 or the S-Bahn and exit at Berlin-Tempelhof. Visitors can sign up for tours of the buildings and the green field to learn more about the airports' interesting past.
Entrance is free and park hours are from sun rise until sunset.
More information and how to get there can be found on the Tempelhofer Freiheit Homepage.